Proceeds from your purchase of Greenway Garb are used for the continuing improvement and maintenance of the Greenway, and to support the MSGTC. You need not be a member of the club to purchase this stuff.
---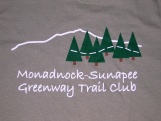 The Shirt
Quality wicking T-Shirts cool design, available in medium, large and x-large.
T-Shirt M, L or XL: $23 (includes shipping)
---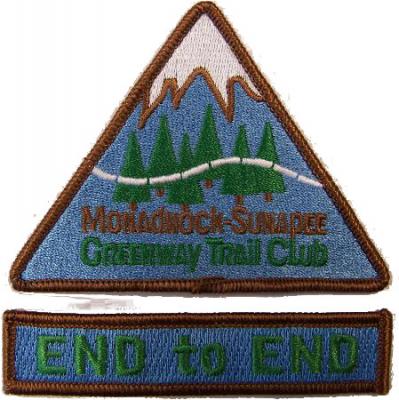 The Patches
Your backpack needs the Greenway patch. $5.00
All new "END to END" rocker patch. If you've hiked the Greenway "END to END" then you need this patch too. $5.00
---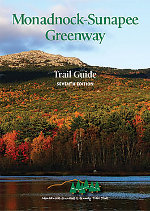 The Greenway Trail Guide, 7th Edition-Spring 2010
$18.00 (includes postage)
Current Greenway Trail Guide, with 2010 map. Complete coverage of the Greenway and all its side trails, road access, camping and history. A must for anyone who's planning on hiking all or just part of the trail. This Trail Guide made possible with the generous support from PC Connection Inc., a leading direct marketer of business computing solutions and one of the nation's most innovative and celebrated direct-order enterprises.
Hiking too soon to order by mail?
The Trail Guides are also available at these locations:
Hannah Grimes Marketplace on Main St in Keene
Toadstool Book Stores in Keene, Peterborough, Milford
Morgan Hill Bookstore in New London
The Mountain Wanderer Map and Book Store in Lincoln
Gibson's Book Store in Concord
Mill Village Country Store on Rt 123 in Stoddard
Rosewood General Store on Rt 103 at the Sunapee Resort traffic circle
Monadnock State Park Office in Jaffrey
Pillsbury State Park in Washington
Washington General Store in Washington
MainStreet BookEnds in Warner
EMS Stores throughout the Northern New England Area
Evans on the Common in Townsend, MA
Trail Head Outfitters in Orange, MA
$18 (includes postage)
---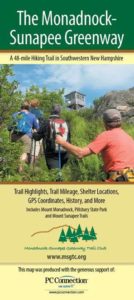 The all in one, brand new Greenway Super Map just $10.00 bucks!
Published in December 2015. This comprehensive full color must have map has all trail highlights of the Greenway on a two-sided 18×24 durable, military grade, water and stain-proof paper. The map shows the Greenway trail from Mount Monadnock to Pitcher Mountain on side one, and Pitcher Mountain to Mount Sunapee on the other side. It also includes all feeder trails on Mount Monadnock, Mount Sunapee and in Pillsbury State Park.
The Greenway Super Map has trail highlights, section mileages, shelter locations, trail history, water source locations, GPS coordinates for all points of interest, and more.
The purchase of this map and all MSGTC products provides financial support that enables our Club to continue to make trail improvements for everyone to enjoy.
Note-This map is different from the map included with our guidebooks–why not have both?
---
Each
Total
T-Shirt
M _______
L _______
XL ______
$23.00
Greenway Patch
$5.00
END to END Patch
$5.00
Trail

Guide

(includes 1 map)

$18.00
Greenway Super Map
$10.00
Total
Prices include shipping.
Make checks payable to MSGTC and send to:
MSGTC
P.O. BOX 164
Marlow, N.H. 03456