June 4, 2022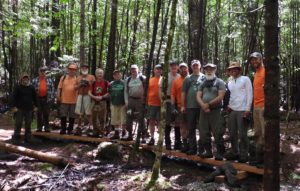 20+ hardy volunteers installed five of these 12ft bog bridges on the Greenway Trail in Washington NH. Over 100 volunteers went into this project alone. Think about hauling in of the rocks for bases, then the 3x8x12 white oak timbers (heavy) and still having the energy to install.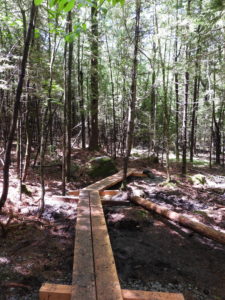 .
The Club will be installing about 15 more of these types of bog bridges just off Center Pond Road in Stoddard over the next few years.
Get out and enjoy –
.
.
---
November 10, 2018
Pre-workday prep-
Tim and Christine going into both sites to measure/plan/make materials list
Tim pre-making the four rail uprights for the Log Cabin Road bridge
Tim pre-making and drilling and notching the 8 post for the Eliza Adams Gorge rails
Tim and Christine dropping materials on site Thursday night 11/8 (in the dark)
Tim running around to pick up hardware and such for the workday
Tim, Bryan and Dave Lacoste picking up and delivering and shuttling materials to both sites (in the dark, again…)
People hours for the above, 25+ hours.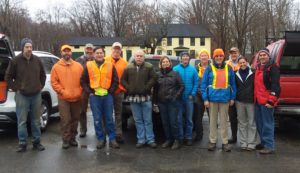 Workday
15 hardy souls (Tim, Adopter Dave L., Pete and Glorie, Matt and Cat, VP Steve, Larry D, The Washington boys-John-Tucker-Jeff, Dan-O, Tim K, Dave P, and arriving fashionable late on cue, Pete Martin showed up at Nelson Center on a sucky morning, but we all know better conditions are coming. This crew made easy work of hauling the stashed materials down to the bridge site in the rain, sleet and snow and removing/hauling older materials up to the landing (to be picked up in dryer weather).. Dan-O and Pete G led the charge on the re-decking project. With so many hands we sent Matt and Cat on a trail run with the chainsaw North to Rt 9 and back, yes they removed ANOTHER 5-6 total blowdowns…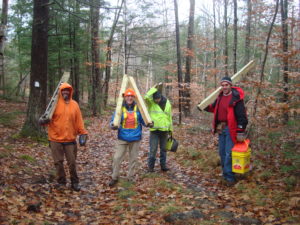 Tim took another crew over to the Eliza Adams Gorge project, we hauled in the stashed materials and assembled the rails on both bridges thus making it way safer…
We all reconnected at the Gorge and marveled at our work…
15 people about 3.5 hours each, or 52.5 hours, plus a lot of travel time for many folks…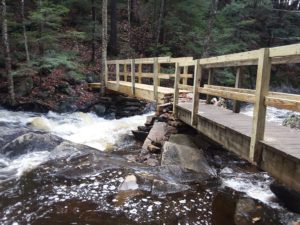 Note- PT is very slick when wet, we need to consider adding shingles or wire mesh for traction and safer crossings.
Thank you all for helping out, many hands made all the above seem easy, a VERY productive day. This MSGTC crew is the best in the business and the trail is lucky to have us!!!
Many of us then enjoyed a nice casual lunch and went away happy-
Over and Out
---
Whew, check out this structure, a Craig Sanborn design. 11 hardy volunteers gave it their ALL during this all day event, thank you all again. The new bridge is 33 inches higher than the old one and 4ft longer. This was all in an effort to keep it in place and not washing downstream in those high water events, let's keep our fingers crossed.
11 people 9 hours each, 100+ hours on Saturday, September 19, 2015.
This doesn't include the countless hours Craig put in on the design, scouting, lumber purchase, etc., add another 50+ hours for that, thank you Craig a job well done. Many other folks were involved on the sidelines on this project to make it happen, so conservatively we easily have 200+ hours into this structure.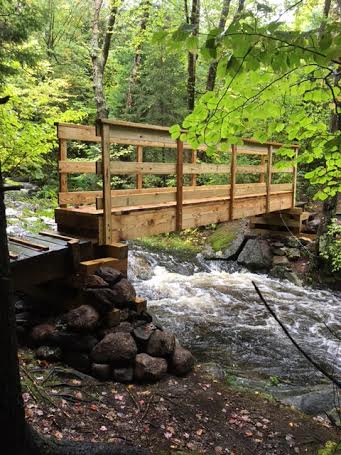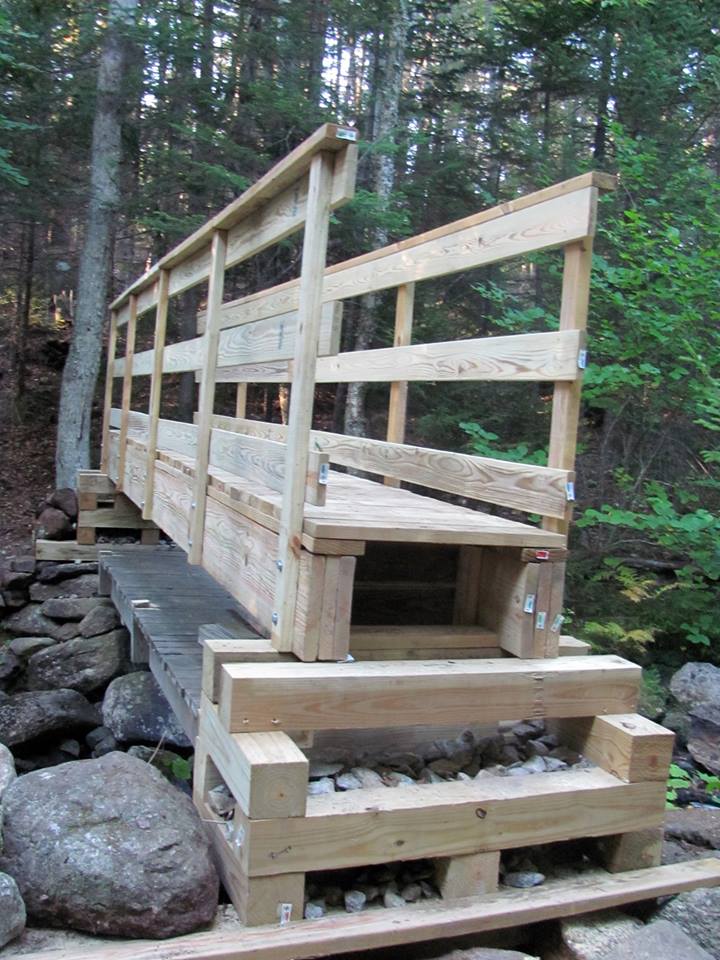 ---
The Club recently replaced this old tired bridge in Harrisville and a modern multi-use bridge, this 30ft structure took months of planning. Many thanks go out to the Dublin School who donated used telephone poles and to Pete Galpin who organized the materials, pre-cut them and hauled them to site. 15 volunteers assembled the bridge on July 20, 2013. This bridge should serve many generations of outdoor enthusiast. Another example of our Trail and Club supporters donations at work.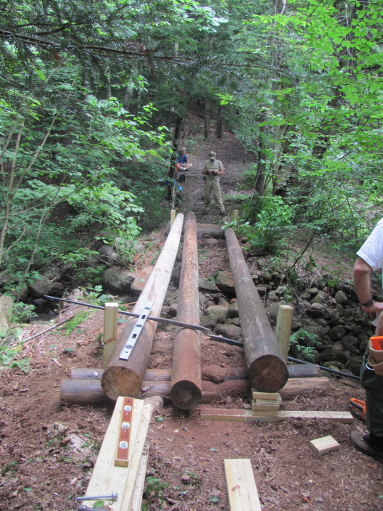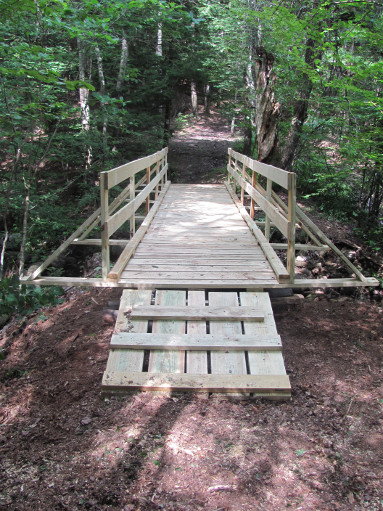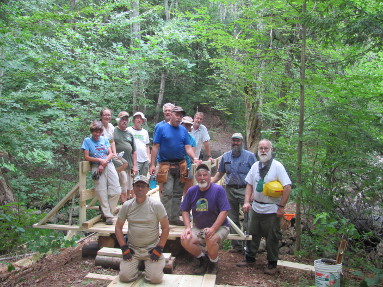 ---
40ft of bog bridges made and set into place. 20-30ft of much needed drainage put into place. 4 well placed and very heavy stepping rocks set into place. Relocation of a chum box. All done April 28, 2012 North of Hubbard on the Greenway- 10 people-6 hours, very productive.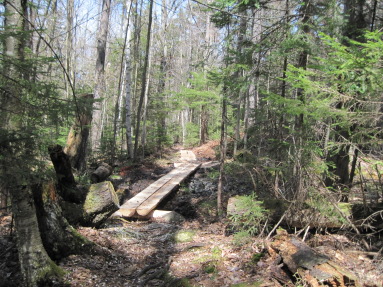 ---
The MSGTC replaced this 8ft bridge over a small stream near Center
Pond in Stoddard in November 2011.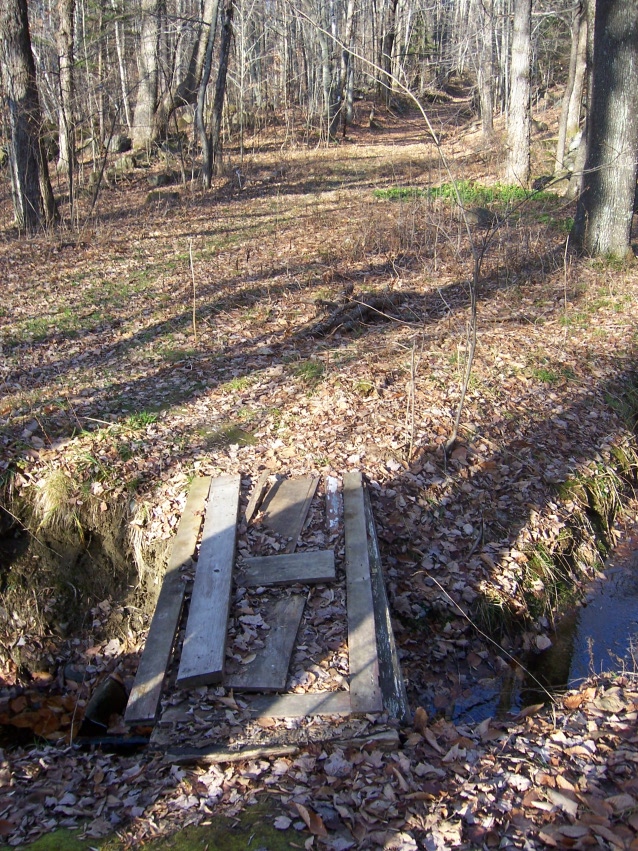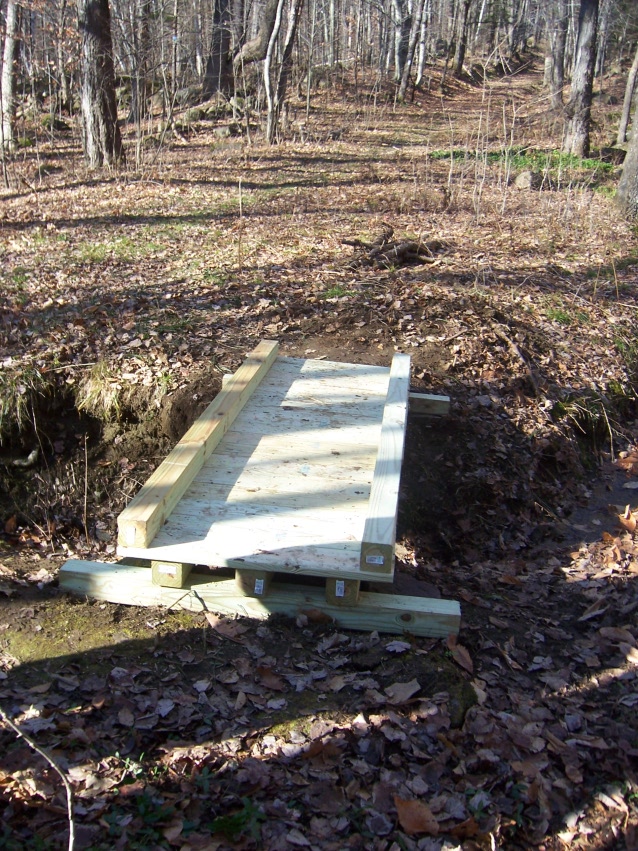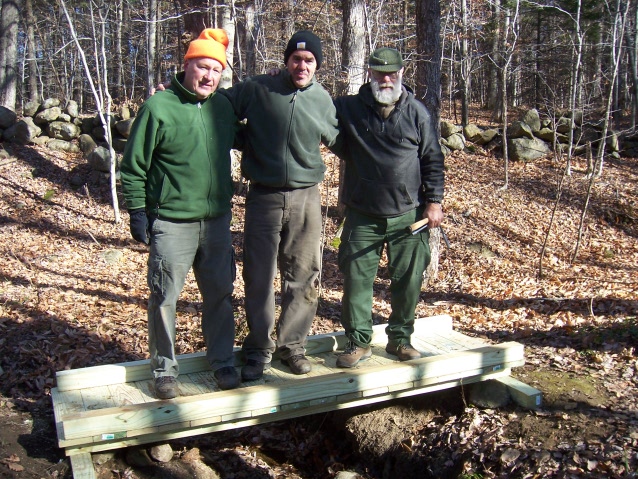 ---
The same crew that built the 8ft bridge then replaced this tired bog bridge near Robinson Brook Cascades, using a nearby hemlock tree, we stripped the bark, constructed and replaced the bog bridge in about 2 hours. Volunteers hard at work are, Craig, Dave, Steve and Tim, thank you for a job well done.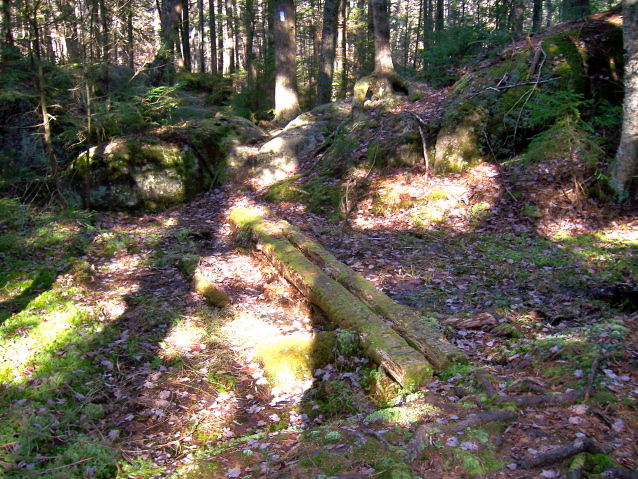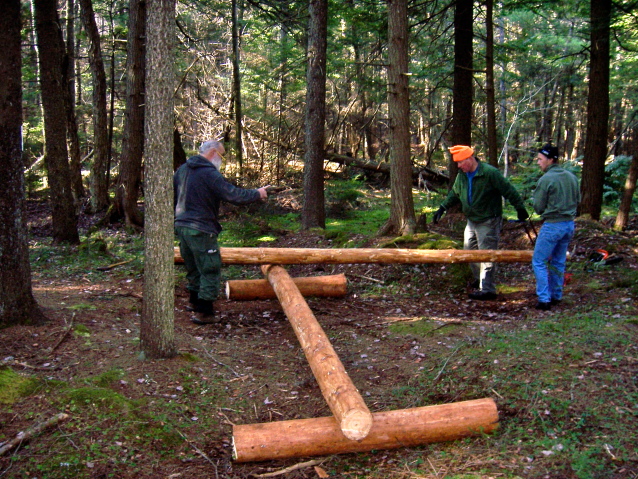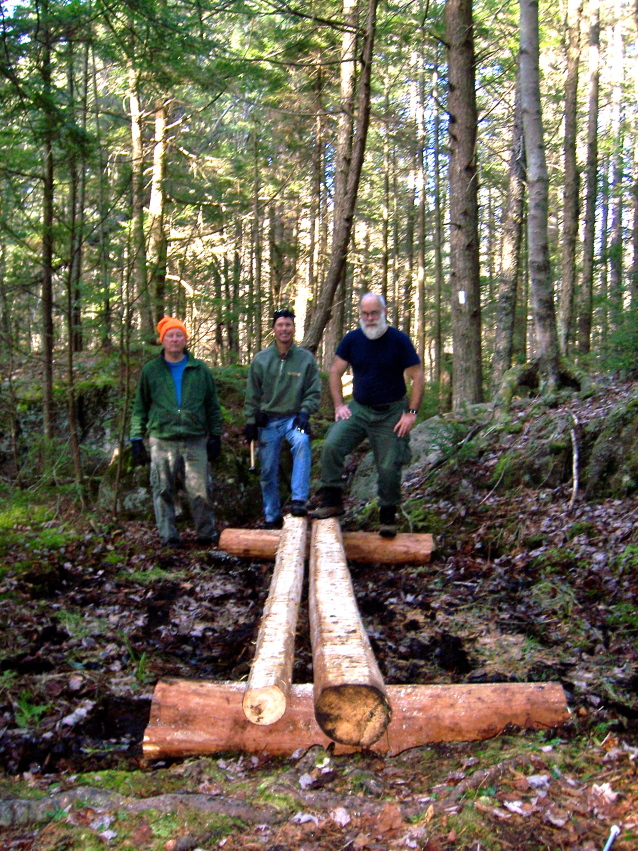 ---
Another volunteer work crew replaced a worn 12ft bridge near Pitcher Mt., while others reworked some rock steps for better footing. The MSGTC is always looking for volunteers to help out- consider giving back to the trail systems you use.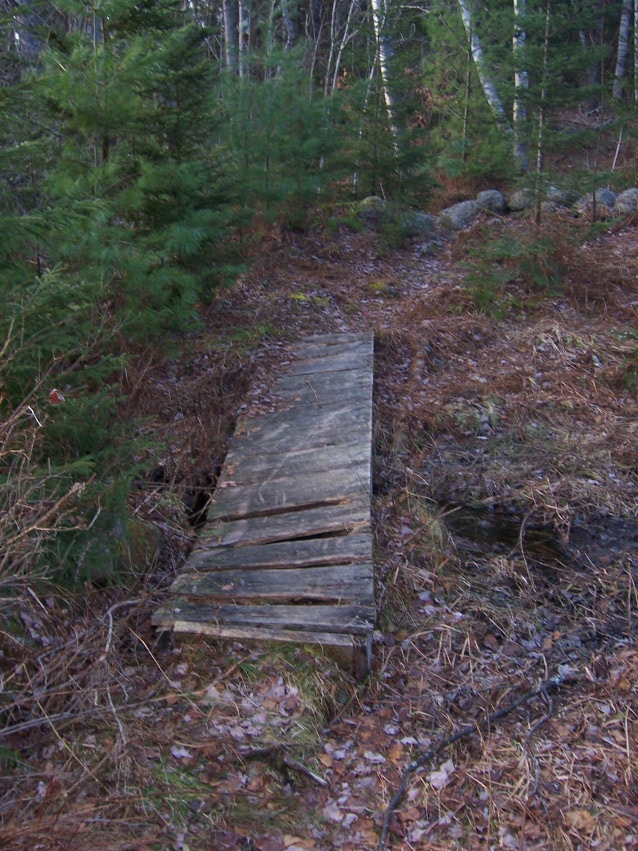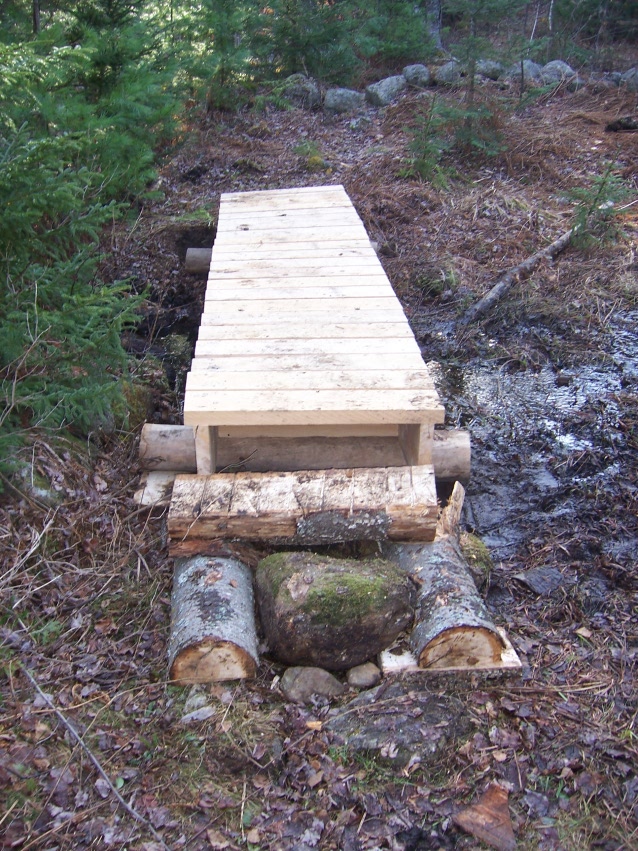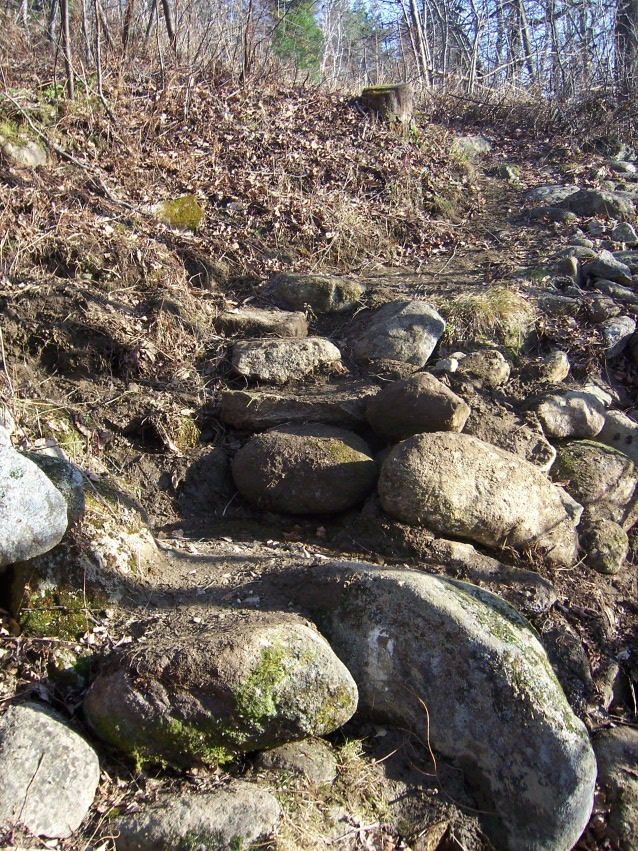 ---
The Greenway Club completed this bridge project in Nelson in November 2010. Removing the sunken bridge and replacing it with this new 27ft long multi-use bridge for hikers, horseback riders, skiers, mtn bikers, etc. A great example of your membership dollars at work. Thank you to the Town of Nelson for working with us and for the telephone poles, and Dan, Lew and Tim for coordinating this project, and all the other volunteers involved.